News
Updates to the IOSH Membership Structure
Written by Phoenix Health & Safety
16th October 2023
IOSH have announced a range of changes to their membership programme which will come into effect later this year. These updates include changes to the names of membership levels and how individuals can acquire and progress to higher membership levels. In this blog we'll go through each of the changes and how they affect progression through IOSH membership.
What is IOSH?
IOSH, the Institution of Occupational Safety and Health, is a chartered health and safety organisation which designs courses for employees at various levels of an organisation. Their courses run in over 130 countries, and they also advise governments and organisations on the development of safety policy and legislation. IOSH has the most members of any health and safety membership organisation in the world thanks to the many benefits membership offers, as well as the international recognition of the organisation.
Changes to IOSH Membership
Later this year, IOSH Membership will be going through some structural changes, which includes the renaming of some membership levels and changes to how some membership levels are achieved.
We'll run through each membership level one by one below, covering any changes as we go. To find out more about the prior membership levels, you can check out our previous blog on IOSH Membership.
Student Membership
As opposed to studying any health and safety course, student membership is now only obtainable by individuals studying an IOSH approved qualification, such as IOSH Managing Safely or the NEBOSH General Certificate.
Student members also gain access to a bursary for courses (dependent on eligibility) as well as an IOSH mentor who'll be there to provide career advice and safety guidance.
Affiliate Membership
This level is a starting point for IOSH members, just like Student Membership. Affiliate members have access to the standard range of member benefits, and you do not need to be studying a health and safety qualification to achieve it. All you need is an active interest in the occupational health and safety sector, and many who join at this level are considering a career in the safety industry.
Associate members, originally a separate membership grade, will transition to affiliate members when the changes take place later this year.
Technical Membership (TechIOSH)
Members can progress to Technical Membership if they possess an eligible level 3 qualification, which is equivalent to a GCSE, such as the NEBOSH General Certificate, as well as one year's experience in the industry. Technical members are required to take part in the CPD (Continued Professional Development) scheme in order to further their careers and personal development.
Certified Membership (CertIOSH)
This level was previously known as Graduate Membership (GradIOSH), and apart from the name change, it won't be changing. To achieve it, a recognised level 6 qualification is needed, such as the NEBOSH Diploma, as well as 2 years of industry experience.
Chartered Membership (CMIOSH)
Members can progress to Chartered status following completion of the IPD (Initial Professional Development) Scheme. Chartered members and Fellowship members are also required to complete the OSH Ethical Practice E-learning and Assessment programme.
Chartered Fellowship Membership (CFIOSH)
Only awarded to members who have been chartered for 5 years or more following an application process, Chartered Fellowship is the highest membership level attainable at IOSH. Achieving this level demonstrates not only your expertise and knowledge, but also your influence and position as a role model to other practitioners.
The new Experiential Route
Along with the changes comes a new method of progressing through IOSH membership. Through the Experiential Route, individuals can progress to Certified or Chartered Membership based on industry experience in a safety leadership role. Most individuals will possess 5 to 10 years' experience when applying, and applications will be reviewed, with interviews included in the process for those applying for Chartered membership. The cost to join through the experiential route is £1080.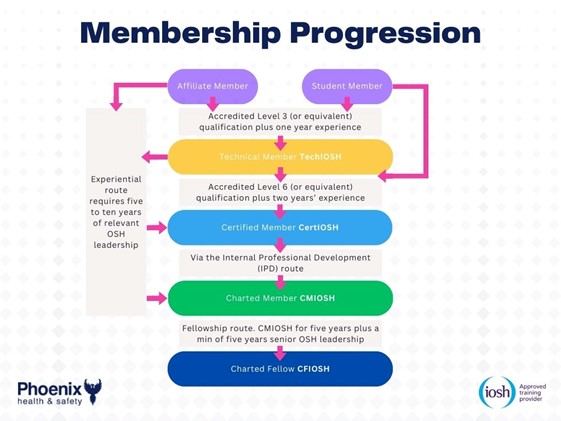 Qualifications for IOSH Membership
Achieving IOSH membership usually requires some combination of eligible qualification and industry experience. While the new Experiential Route will allow progression based on solely experience, it will only be available to those who are already in, or have previously held, health and safety leadership roles. Many in this position will also possess accredited health and safety qualifications however, which they needed to acquire these previous roles.
Acquiring a recognised qualification is therefore one of the most effective ways to begin or progress your IOSH Membership, as well as further your career.
Courses for Technical Membership
To achieve Technical Membership with IOSH, you need to possess an eligible level 3, or GCSE equivalent, qualification, such as:
NEBOSH General Certificate
As the industry standard for foundational health and safety courses, the GCSE equivalent, level 3 NEBOSH General Certificate is the first-choice qualification for many when embarking on their safety journey. Across its 9-day duration it covers the fundamentals of occupational safety and health, preparing you for a career in the industry. It can be studied both as a National and International qualification.
NEBOSH Construction Certificate
A GCSE equivalent qualification like the General Certificate, the NEBOSH Construction Certificate provides a similar foundational knowledge of occupational safety and health across 9 days. However, where it differs is in covering safety content relevant to the construction industry, such as excavation and demolition safety. If you're considering a career in construction safety specifically, this course will be more beneficial than the General Certificate. The Construction Certificate can be studied both as a National and International qualification.
Courses for Certified Membership
To achieve Certified Membership, a level 6 or degree equivalent eligible qualification is required. These include:
NEBOSH Diploma
As the gold standard for health and safety qualifications, the NEBOSH Diploma is the go-to degree level qualification for those pursuing careers in health and safety. It provides a comprehensive understanding of occupational health and safety over six weeks, effectively preparing students for a career in the safety industry.
NVQ Level 6
Suitable for individuals already in health and safety positions looking to acquire a degree level qualification, the NVQ Level 6 is a vocational qualification completed in your workplace. The course provides opportunity for individuals to evidence their health and safety expertise, demonstrating their knowledge and skillset in a range of areas. The qualification can lead to promotions and salary increases, as it demonstrates your competence and safety expertise.
Benefits of IOSH Membership
All members of IOSH also benefit from the following, making it a must have membership for health and safety professionals:
Access to research materials and IOSH learning resources, as well as newsletters and magazines, keeping you up to date on everything health and safety

Networking opportunities with fellow members at a range of events and conferences held at local IOSH branches.

Recognition as an industry professional

Use of the CPD (continual professional development) program to further your skills and expertise, as well as advance your career

Discounts on all IOSH events
The cost for your first year of IOSH Membership is £208, which includes a joining fee. When you are promoted to Certified (previously Graduate Membership) you'll pay a one-time fee of £160 to join the IPD (Initial Professional Development) scheme, which will help you on your journey towards Chartered Membership. The annual fee for membership depends on your membership level, ranging from £147.00 a year to £203.00.
You can book a NEBOSH course or NVQ today and begin your journey towards IOSH membership today, or, if you have any questions about our courses, speak to a member of the team.