Choosing a health and safety course
NEBOSH Certificate or Diploma, which is right for you?
Written by Phoenix Health & Safety
26th January 2021

At Phoenix, we offer a wide range of NEBOSH health and safety courses. Most of these are at Certificate level, though we also offer the Diploma, which is at a higher level. In this article, we'll explore the important differences between them both.
But let's start by discovering more about NEBOSH, who have been providing Health and Safety qualifications for over 40 years.
What is NEBOSH?
NEBOSH is the National Examination Board in Occupational Health and Safety. It supplies syllabuses, exams, and assignments to accredited course providers, like Phoenix.
Employers value NEBOSH qualifications across industries in 130 countries. They are seen as an excellent way for professionals to advance their career, and, as such, 50,000 candidates complete them every year.
Phoenix Health and Safety is a NEBOSH Gold Partner. This accreditation means our course materials, tutors, and learning environments pass the highest approval level.
NEBOSH Certificate
The NEBOSH National General Certificate in Occupational Health and Safety, often simply referred to as the NEBOSH General Certificate, is one of the UK's most popular and widely recognised health and safety qualifications. This is because it offers a solid foundation of knowledge across the breadth of health and safety practice.
The NEBOSH certificate is a Level 3 qualification, equivalent to a GCE A level.
It is suitable for employees in various roles, including health and safety officers, executives, advisers, managers, and supervisors. It's also apt for HR professionals, operational managers, and others whose responsibilities include health and safety.
No previous health and safety qualifications or training are required to study for the NEBOSH certificate. As such, it's the perfect grounding for candidates who are about to embark on a health and safety career or expecting to take on responsibilities in that field.
For candidates who work outside the UK, Phoenix provides courses leading to the NEBOSH International General Certificate.
Specialist NEBOSH Certificates
As well as the national and international general certificates, Phoenix also offer NEBOSH certificates in different specialisms:
Students who have already studied the National General Certificate can convert their qualification to a Fire Safety or Construction Safety Certificate, via a shorter conversion course.
Candidates can study certificates in a classroom setting or online. They take five to ten days of classroom study or around 100 hours of self-study.
NEBOSH Diploma
The NEBOSH National Diploma in Occupational Health and Safety, also simply known as the NEBOSH Diploma, is a very different and much more advanced qualification. It has the status of an academic bachelor's degree.
The diploma is the pinnacle of the NEBOSH portfolio. It is designed primarily for people who are already health and safety practitioners, have previous knowledge and experience, and wish to take their career to the next level as managers, consultants, or advisors.
There are no formal entry requirements to study for the diploma, but candidates are recommended to have a Level 3 qualification, such as the NEBOSH General Certificate. Or alternatively, five years' experience working in a health and safety role is a suitable background for the diploma.
The NEBOSH Diploma course is assessed via three formal written exams, plus a practical assessment based on the candidate's workplace.
NEBOSH Certificate vs NEBOSH Diploma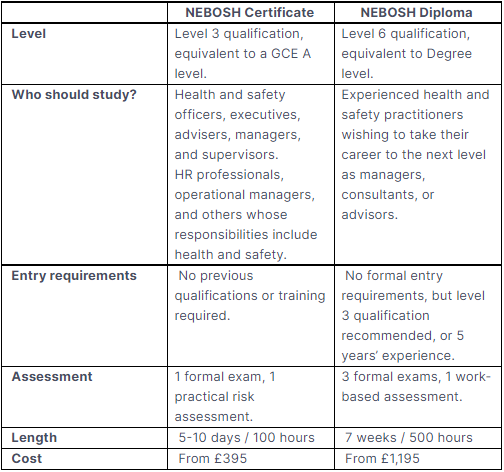 Ready to find out more?
Are you clear whether a NEBOSH certificate or diploma is the right option for you? Perhaps you would like to know more before making the decision. In either case, you can't choose a better provider than Phoenix.
We're a UK leader in health and safety training, famous for the quality of our tuition, course materials, and student support.
Contact the Phoenix team at any time to have your questions answered, or book a course today.